Currently, Alaska Regional is not performing any testing at the hospital, unless they are already patients. Rather people are being sent to the drive-up testing site at Lake Otis Parkway and East 42nd. This method is far safer for everyone involved. Providence Alaska Medical Center is partnering with Alaska Native Medical Center, Alaska Regional Hospital and Anchorage Neighborhood Health Center to offer free drive-through COVID-19 testing to the community. The new drive-up hours are from 11 am to 3 pm, Saturdays and Sundays, and 11 am to 6 pm, Monday through Friday.
In addition, in order to enable patients to evaluate their COVID-19 risk, our corporate office (HCA) has created a "Chat Bot" powered by Microsoft that is available on our website. The goal is to provide patients with a self-assessment tool that will help determine their potential risk of COVID-19 infection and recommended next steps based on their risk level. The tool was added to our website last week. Check it out here.
Currently, our census is pretty low and we are bracing ourselves for an increase, which hopefully we can avoid.
All visitors are being screened, including temperature and many of our entrances have been shut down. We've implemented a No Visitor Policy – only visitors for approved criteria:
Children under 18 may have one caregiver present
NICU patients may have one parent present
OB patients may have one labor partner
Family of patient who are end of life
For more info, visit alaskaregional.com/covid-19/coronavirus-preparedness.dot.

The Latest Guides and Resources from the U.S. Chamber
Upcoming Calls and Webinars
Friday, April 10, 2020: Weekly U.S. Chamber Coronavirus Call with Member Chambers and Trade Associations
Please join us Friday, April 10 at 4:00 p.m. ET for our next weekly coronavirus call with chamber and trade association members of the U.S. Chamber.
ANCHORAGE CHA

MBER MEMBER UPDATES
Free Public Relations Services for Alaska Nonprofits
Alaska's nonprofits lift a lot of weight, often with little support. Charged with fulfilling a mission to make each community a better place, there's no doubt to the impacts they make, especially in the face of a crisis such as the ongoing pandemic. In gratitude, Thompson & Co. Public Relations is providing free communications consulting for up to three nonprofits a week throughout the month of April. PRESS RELEASE
Alaska Airlines making significant changes to our schedule during these unprecedented times
Alaska Airlines made the difficult decision to implement significant capacity reductions for April and May throughout their network. They're decreasing their flying by approximately 70% systemwide for each month. READ MORE
BDO on the Families First Coronavirus Response Act
The Families First Coronavirus Response Act (H.R. 6201),  became law on March 18, 2020. The Act guarantees free testing for the novel coronavirus (COVID-19), establishes emergency paid sick leave, expands family and medical leave, enhances unemployment insurance, expands food security initiatives, and increases federal Medicaid funding. READ MORE

GCI joins NCTA project to track internet usage during COVID-19
Maintaining network operations and access is a priority for service providers across the nation. This week GCI joined a project spearheaded by industry organization NCTA to launch an online tracker for metrics, trends and observations related to internet usage during COVID-19. In line with national trends, internet usage in Alaska since March 1, 2020 has grown more than 20 percent. LEARN MORE
Daily Briefings for Small Business: Ask an Advisor!
Join Alaska SBDC Business Advisors Monday-Friday at 2 pm online for the latest updates in COVID-19 related news and resources (emergency loans, unemployment, etc.). REGISTER FOR DAILY BRIEFINGS
For more resources, visit aksbdc.org/covid19.

Anchorage Chamber Members Open for Business
We've created a shared Google sheet listing those Anchorage Chamber members who are open for business. Share this information by using this link: bit.ly/ACCmembers
To add a business, simply add their information to the spreadsheet or email tosha@anchoragechamber.org.
Social distance with Alaska Wildlife Conservation Center
AWCC gives visitors the option to self-tour its 1.5-mile outdoor loop. Whether you decide to walk or drive around in your car, say hello to your favorite Alaska animals and get out of the house, while also keeping safe. READ MORE
$5 A4A Meals for Those Out of Work
49th State Brewing Co. is offering $5 carry-out meals to support those out of work. And for those Alaskans working in health and emergency care, they know you're tired. Order an A4A Meal and they'll deliver it to you and waive the delivery fee. ORDER ONLINE
Downtown Gift Card Stimulus Program
The Anchorage Downtown Partnership Ltd. created the Downtown Gift Card Stimulus Program to support our downtown economy by promoting gift card purchases. The program will run through May 1st, 2020. READ MORE
Can't Go to the Store?
Use a pickup or delivery service (please be prepared for wait times due to high demand)
Job Opportunities
While some companies are on a hiring freeze, others are looking to add to their team.
Municipality Business Dashboard
In response to the business closures to prevent the spread of COVID-19, the Municipality of Anchorage has created a business dashboard.  This dashboard shows a map of businesses that are open, closed or under altered operating hours based on a survey business owners can fill out.  There is a specific map of restaurants offering to-go or delivery service.
B & B, Hotels, Businesses and Individuals Requested to Donate Personal Care Items
Anchorage continues to be a community with a big heart, and there are more items needed to help our fellow humans. Requets include:
Single-use/travel size shampoo and soap
Hair combs (not brushes)
Toothbrushes
Travel-sized toothpaste,

NO MOUTHWASH

Decks of playing cards
Board games
PLEASE ONLY DONATE UNOPENED ITEMS
Please take donations to:
CrossFit Alaska
9191 Old Seward Highway
Entrance faces Scooter Ave
Hours of donation: 9 AM- 5 PM 7 days a week.
For questions, contact 2-1-1, email covid-19@anchorageak.gov or call 907-343-4019.
At-Risk & Senior Shopping Hours
Carrs Safeway
Tues. & Thurs.: 6 am to 9 am
Costco
Tues. & Thurs.: 8 am to 9 am
Fred Meyer
Mon. thru Thurs.: 7 am to 8 am
Walgreens
Walmart
Tuesdays 7:30 am to 8:30 am
Current Critical Needs
The Blood Bank of Alaska is low on blood and needs donations. Especially for type O and O+. Donations by appointment only. Call 222-5630 or visit bloodbankofalaska.org.
Food Bank of Alaska
The Food Bank of Alaska is working closely with their 40 Southcentral partner agencies like the Children's Lunchbox to provide emergency food assistance during the COVID-19 outbreak, on top of what they typically do to meet the needs of food-insecure Alaskans. Their hunger relief programs allow families to save the money they would have spent on food for other critical expenses like rent, car payments and medical bills. If you have employees that could use information about available food resources you can click here or for information on SNAP and other temporary assistance programs click here.
HEALTH, WELLNESS & LIFESTYLE

4 Best Work from Home Tips to Stay Productive
Written by Audrey Juliussen, Bradison Management Group
We know there is so much uncertainty in the world right now, and many of us are adjusting to a new normal: life in the times of social distancing. For many professionals, this means adapting to working from home to help slow the spread of coronavirus. BMG wanted to provide some tips and tricks to help make the transition easier. Here are our top four tips to staying productive while working from home READ MORE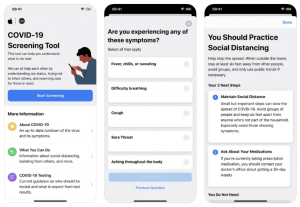 Apple Launches COVID-19 App
The COVID-19 app has up-to-date information from trusted sources about the coronavirus disease that is impacting people across the world. It has a screening tool so you can find out what you should do now for yourself or for a loved one. And it gives you access to resources you may need to feel supported and informed. APP STORE