Between valuable networking opportunities to educational training, the Anchorage Chamber offers an event for every type of personality and business professional. Read the descriptions below to find out more and visit our Events Calendar for upcoming programs.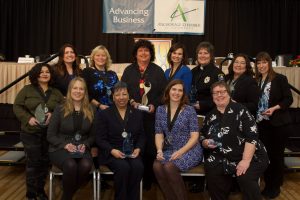 The Anchorage ATHENA Society is a program of the Anchorage Chamber of Commerce that works year-round to encourage the potential of all women as valued members and leaders of the business community. The group has grown to almost 300 women and works to raise scholarship funds for high school girls to attend camps where they learn leadership skills and gain business expertise.
Each March, new members are inducted into the society at the Anchorage ATHENA Society Luncheon which honors women business leaders. More than 400 people attend the luncheon each year and hear from many inspiring women from the Anchorage community.