Anchorage Chamber Citywide Cleanup

KEEPING ANCHORAGE CLEAN SINCE 1968!
We're excited to announce that Citywide Cleanup will again be a month-long event in May. As the snow melts, we're encouraging families to get outside and clean together safely, masked up, and physically-distanced.
HOW TO PARTICIPATE
Pick a team captain, an awesome name, and get your team

registered

.
Pick up orange bags at designated locations on

Mon. May 3!

Dispose of orange bags at the proper facilities.
Register for your FREE Summer Disposal Pass starting Saturday, May 1.
Post a pic of your team cleaning using #CleanAnchorage2021 to enter to win prizes! Join the official Facebook Group
2021 Citywide Cleanup Pop-Up Events
Keep the cleanup effort going all month long! The following events will be outdoors, ask that you wear masks, and be in accordance with the updated mandates in May.
May 1, 2021
11 am - 2 pm with Matson at Westchester Lagoon. Visit the Facebook Event for info!
Find a Kickoff event near you on a map below.
Week 1 (May Mon. 3 - Fri. 7)
The military is hosting their Cleanup Week on JBER.
May 8, 2021
Super Sweepers - ASD is cleaning up their schools
Week 2 (May Mon. 10 - Sat. 15)
Anchorage Downtown Partnership - Wed. May 12, 2021: We're cleaning up trash downtown with ADP. from 4:30 pm - 6:30 pm join us to clean and patron local biz!
Week 3 (May Mon. 17 - Sat. 22)
Anchorage Parks & Rec - Wed. May 19, 2021: Join Anchorage Chamber Young Professionals Group cleaning up the coastal trail from 4:30 pm - 6:30 pm as we start our Adopt-a-Trail initiative!
Go Hike Alaska- Thur. May 20, 2021: Want to hike, clean, and refurbish Glen Alps and the bench at the Anchorage overlook? Join Matt with Go Hike Alaska from 12 pm - 3 pm. More information to come
Week 4 (May Mon. 24 - Sat. 29)
Information on a Girdwood event to come!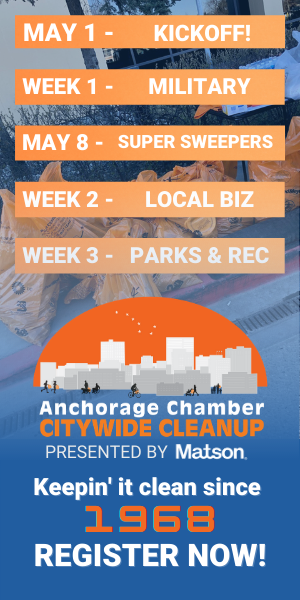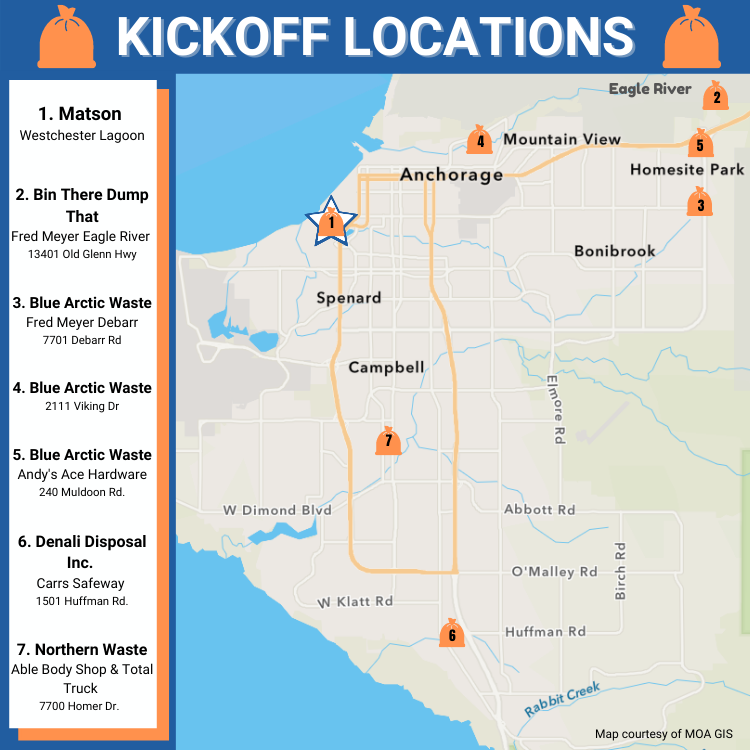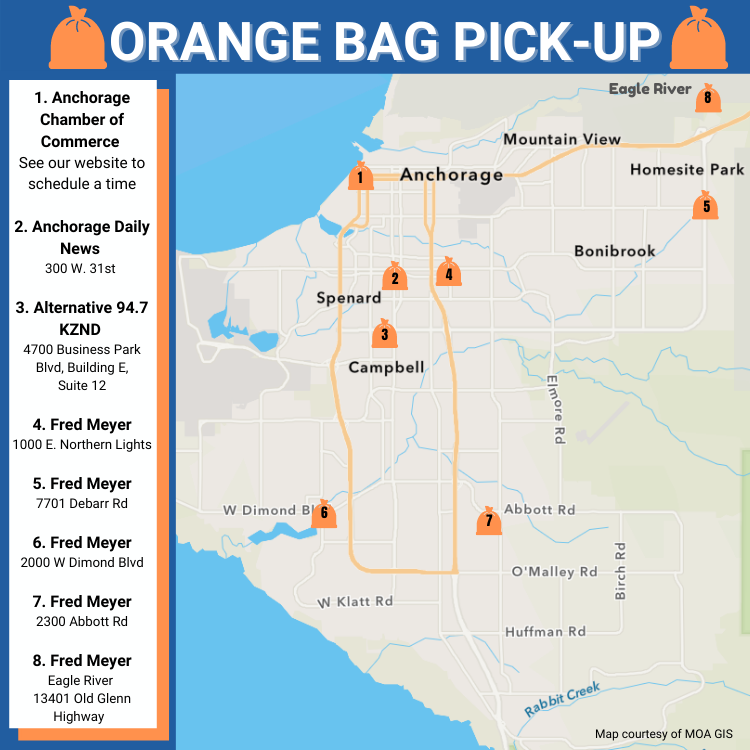 May 1 - 29, 2021!
We have partnered with other local businesses who understand how important cleanup is for our city, and we're working on ways to make it both safe and successful. We're keeping this event a month-long to allow time for the snow to melt and allow for more social distancing.
THANK YOU TO OUR 2021 SPONSORS