Anchorage Chamber Citywide Cleanup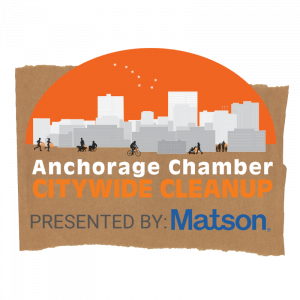 2023 CITYWIDE CLEANUP. KEEPING ANCHORAGE CLEAN SINCE 1968!
HOW TO PARTICIPATE
Pick a team captain and create an awesome team name, and get

registered

.

Citywide Cleanup Events

. Join us

throughout the month of May

to win prizes

 

from

Matson

!
Pick up orange bags at designated locations, including your local Fred Meyer.
Dispose of orange bags for

free

at the proper facilities listed. Haulers will

not

 pick up bags on the side of the road.
You can continue your spring cleaning after with

Solid Waste Services

Free Summer Disposal Pass Registration

! Registration is only open during Citywide Cleanup month.
Matson Cleanup Giveaway
Enter to win over $5,000.00 in prizes including (2) roundtrip tickets on Alaska Railroad
CITYWIDE CLEANUP OFFICIAL EVENTS:
Sign Up for ASD's Super Sweepers
Saturday, May 6, 2023 | 10:00 AM - 2:00 PM
Have your school coordinator

register

your school.
Clean up trash at your school during

Super Sweeper Saturday

. Join us on May 6th

10:00 AM - 2:00 PM,

with prizes from

Fred Meyer

!

Orange bags will be delivered to your school by Saturday,

May 6th.

Our Super Sweepers sponsor,

Alaska Waste,

will help pick up your orange bags with the help of our coordinator. 
Want to Host a Citywide Cleanup Event?
WHEN IS CITYWIDE CLEANUP?
May 5 - June 3, 2022! We have partnered with local businesses who understand how important cleanup is for our city, and we're working on ways to make it safe and successful. We're keeping this event a month long to allow time for the snow to melt and for more participation!
WHERE DO I GET ORANGE BAGS?
Look for the info buttons on the map below. Pick up your official Citywide Cleanup orange bags at your local Fred Meyer or Rec Center!
Fred Meyer Anchorage
Fred Meyer Eagle River
Anchorage Rec Centers
94.7 Alternative Anchorage
Northern Waste
If your team has a larger order and would like to pick them up at the Anchorage Chamber of Commerce, please fill out the request form here.
WHERE I DISPOSE ORANGE BAGS?
Please do not leave trash along the side of the road. The bags will not be picked up. You will be able to dump orange bags for free at participating locations. See the map locations with our disposal icons for Citywide Cleanup dedicated dumpsters. For SWS Free Dump Passes, click here.
Anchorage Regional Landfill (Eagle River) 15500 Eagle River Loop, Monday - Friday, 7:30am - 5pm, Saturday, 8am - 5pm
Central Transfer Station (Mid-town Anchorage)

For Orange Bags use the Residential Side: 54th & Juneau St, Monday - Saturday, 8am - ​5pm

Northern Waste, 1111 E. Dowling Rd.
HOW DO I CLEAN UP SAFELY?
Remember to wear gloves while picking up trash and an orange safety vest if cleaning roadways or intersections.
Bring sturdy plastic containers suitable for sharps like used needles. These could be medical sharps containers designed for needle collection, available at some pharmacies, or thick plastic jugs for detergent, kitty litter, or shampoo (water bottles are too thin and can be punctured.) Here's a flier from the state health department on safe needle disposal.
Please be aware of private property boundaries and ask permission to clean these areas.
THANK YOU TO OUR 2023 SPONSORS